Contractors Accommodation
Happy Days launched their contractors accommodation packages in 2019 and looks forward to continuing this venture into 2020 and beyond. Rates have been adjusted for long term stay, and the longer you require accommodation the more discount you will receive. Rest assured that we will take good care of your workers and staff in a safe and secure complex.
Our contractors offer includes the following:
2 people sharing in a 1-bedroom apartment.
Daily servicing of the flat (sweeping & washing floors, making beds and cleaning the bathroom).
1 x parking bay per flat – additional parking can be arranged from reception at R 15.00 per day.
500 MB WI-FI per person upon arrival – additional WI-FI can be purchased from Reception.
Laundry Facilities at R50 per Load
Meal packs including breakfast, lunch and dinner.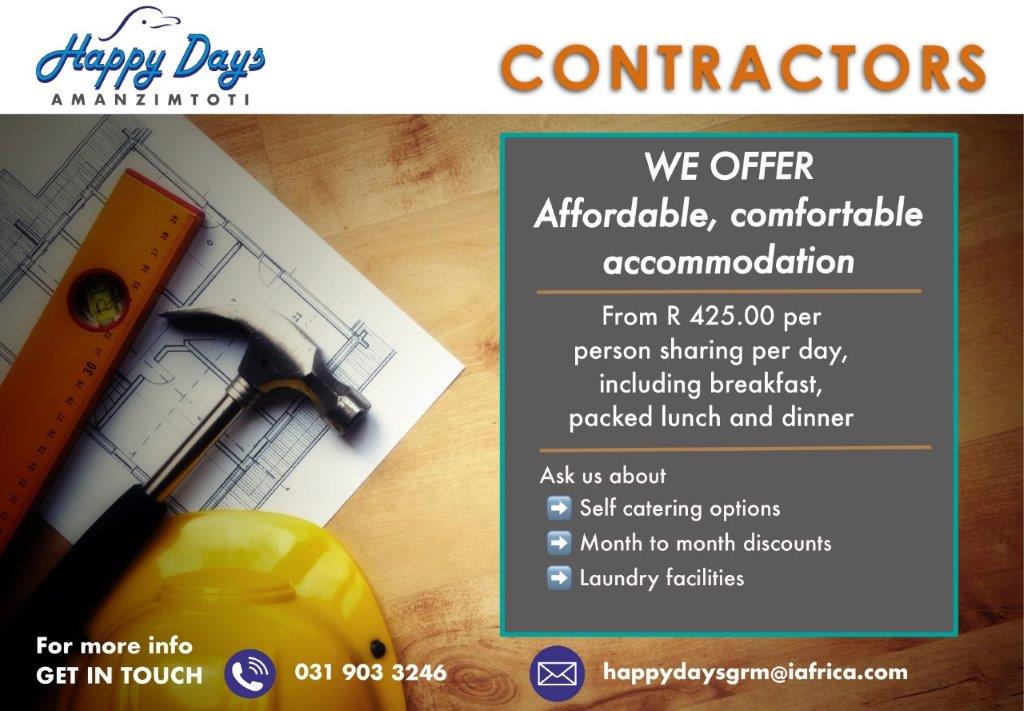 PLEASE NOTE:
The above offer is per person sharing. Should you require accommodation for a single person, the fee will be R595 per person in a Studio Flat (Non Sharing).
Meal Packs include:
Breakfast
Omelette / Boiled Eggs & Sausage / Fruit Salad, Yoghurt & Muesli Fruit and Fruit Juice
Lunch
Toasted Sandwiches / Rolls or Mini Burgers / Normal Sandwiches with a Bottle of Water
Dinner
Daily Dinner Club Menu
Either Beef / Pork / Fish / Chicken with Vegetables and a Starch with a Cold drink